Santa Mixed Media Canvas
Christmas is almost here, and this Santa mixed media canvas is perfect for your holiday decor.
Hello Everyone!
Lately I have been inspired to make mixed media canvases, and with Christmas fast approaching I have the perfect subject for my art.
I had this beautiful paper and glittery star that became the focal point, the rest was just details.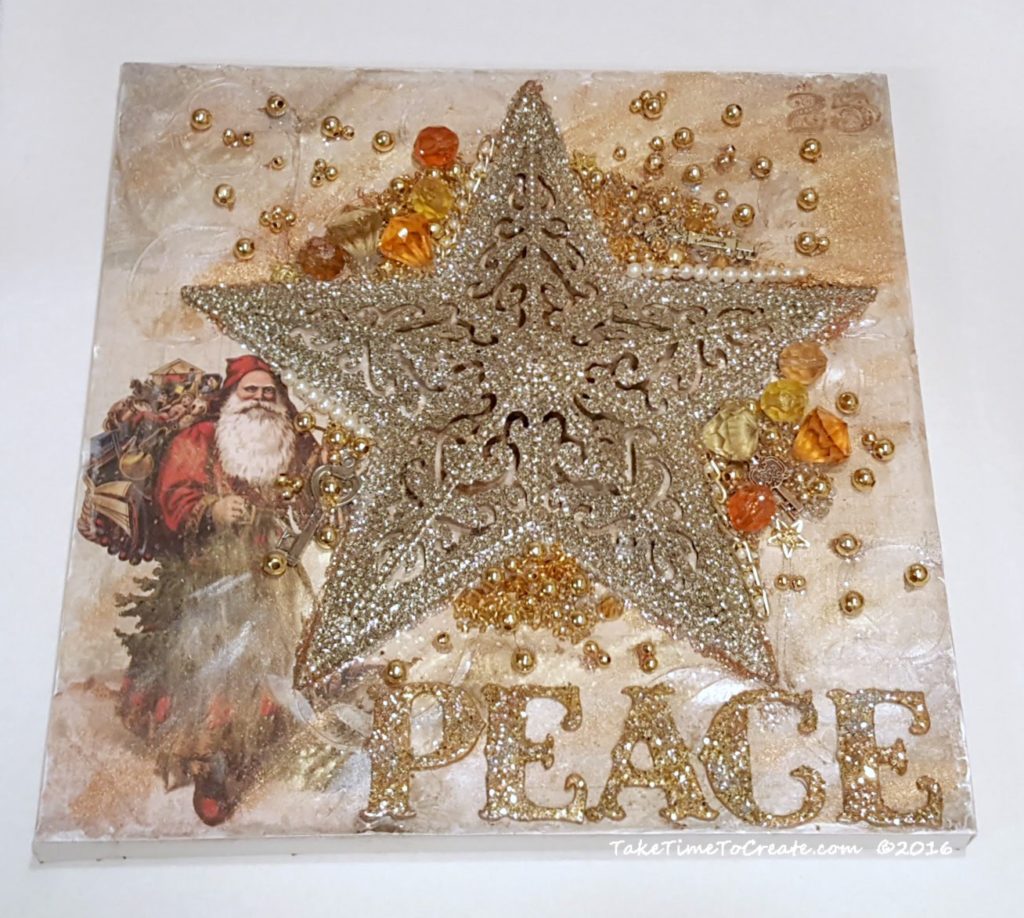 Now I will be honest, I didn't take any pictures of me actually doing the mixed media, but I think I can explain well enough and as always please ask if you have questions.
I really enjoy making mixed media canvases, all inspired by Finnabair.
Materials:
12x 12 canvas (I got mine at Michaels, but you can always get one on Amazon here: Canvas)
Paper (I don't remember where I got this beautiful paper by KaiserCraft, St Nicholas Collection, Papa Noel,  but you can find great paper just about anywhere)
Large star (I found mine at the Dollar Store. It was just so beautiful that I couldn't pass it up. )
Large letter, glitter, beads, and other do-dads, stickles, acrylic paint, stencil
Mod Podge, modeling paste, Mica Powder, clear gesso, clear spray sealer
Instructions:
Trim your paper to fit your canvas and spread Mod Podge on the canvas.  Place your paper on the canvas, smooth out. I turned my canvas over and let it dry overnight.
The next day I covered my paper with clear gesso to give it some tooth. Then I applied modeling paste with a swirl stencil to add some detail (you can't really see it, but it is there.)
Then I sprinkled on mica powered and spread it around.  (I am in love with these Prima Marketing mica Powders. You can find the colors I used here: Gold, Copper, Pale Silver)
Once that was all dry I went to town. I added modeling paste to the star and glued it to the center.
I highlighted the stencil with painted and I painted around the edges with a shimmery white color.
Then I added the letters (they were pink, but I painted them and added glitter)
I added the large gems and small beads and micro beads with globs of modeling paste. Then I poured on lots of glitter to stick the the modeling paste (I figured that Christmas decor needs a lot of glitter)
I added rows of pearl beads, and key metal elements, and I added stick details to the star. Once everything is dry I sprayed it with a clear sealer, the mica powder is not adhered to anything and it will wipe away, so the sealer is necessary.
I really like how this turned out. I think it is an interesting piece.
What holiday should I make a mixed media for next? New Years? Easter? Valentine Day?
This post Santa Mixed Media Canvas appeared first on Take Time To Create
---
If you enjoyed this post, make sure you Follow Take Time To Create so you don't miss out on other great posts.
Follow Take Time To Create on WordPress.com

---
This post contains affiliate links
1