Hello Everyone!
Christmas is almost here! In anticipation I created this Christmas Tree Mixed Media Canvas. I just love everything about the Christmas season and this canvas put me in the holiday spirit!
I did a video tutorial that goes over all the steps and I will try and describe what I did in the instructions below (but the video might be easier to follow along with all the steps, lol).
Materials: (Affiliate links)
Canvas: http://amzn.to/2BaGRH
Dina Wakley Stencil:

http://amzn.to/2ySBrKY

Liquitex Glass beads:

http://amzn.to/2ySpaWR

Artists Loft Paint:

http://amzn.to/2zjU3qA

Blue Mica Powder:

http://amzn.to/2B9JVDc

Deep Water Mica Powder:

http://amzn.to/2yThMdN

Finnabair silver wax:

http://amzn.to/2jcRaz7

Finnabair bronze wax:

http://amzn.to/2yTtqFD

Laser cut snowflakes (Similar):

http://amzn.to/2jcRVYU

Gel Sticks:

http://amzn.to/2BtzMyk

Gel Pen:

http://amzn.to/2oC3Rsy
Instructions:
Start with an 11×14 canvas and cover it with old music. This is a great way to break up the background and start a canvas.
Now it is time to add color and texture. I used the Dina Wakley stencil and added glass beads to the bottom. Then I painted the sky with a few different blues and the snow with white. Don't forget to paint the edges. for sparkle I added Mica powders and spread them out with water and let it drip to the bottom. Let this all dry before going on to the next step.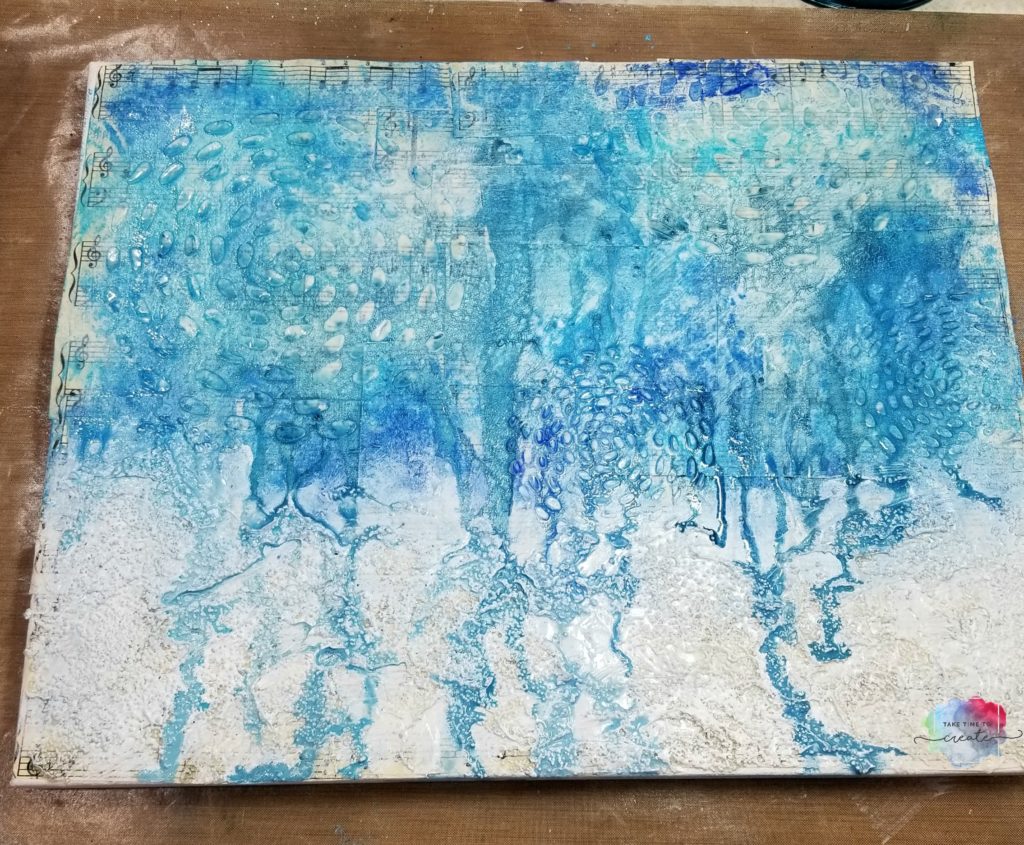 Now it is time to prep the tress. Find 3 different Christmas papers that will work for trees and cut them into triangles.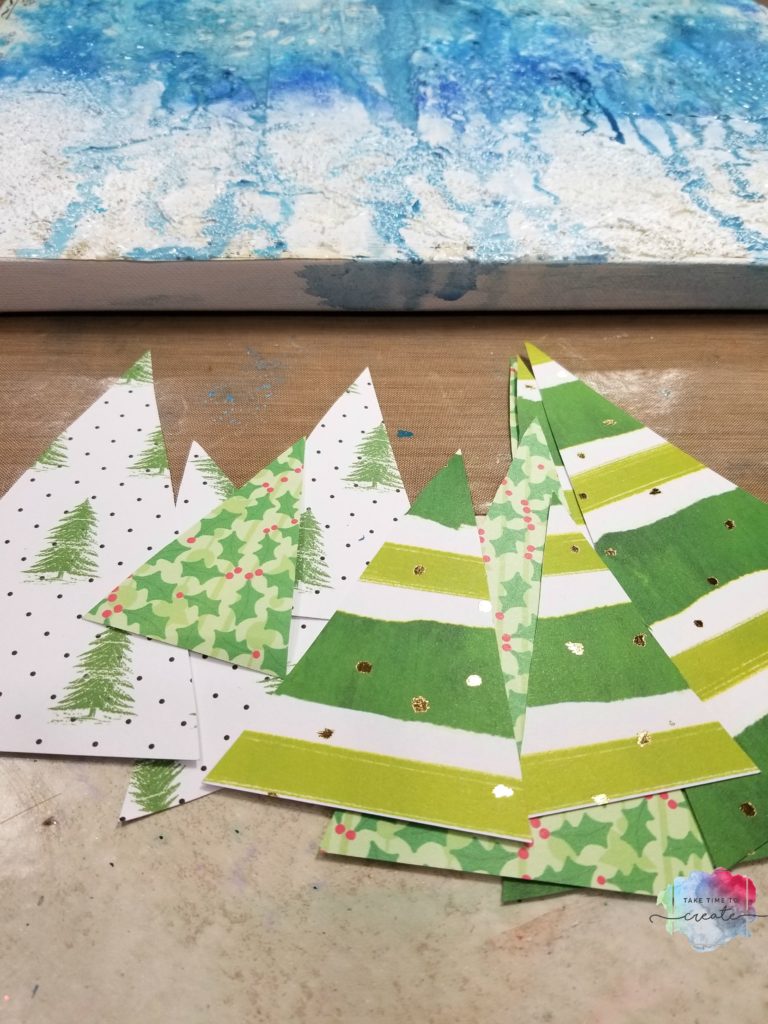 Then I used a gel stick to add color to the edges and smeared it in then I added a white line on top with a gel pen. This added dimension to the trees.
For the snowflakes I painted the wood cut out with liquid watercolors and then added some Finnabair wax on top. For the tree trunk I painted them with a Finnabair wax.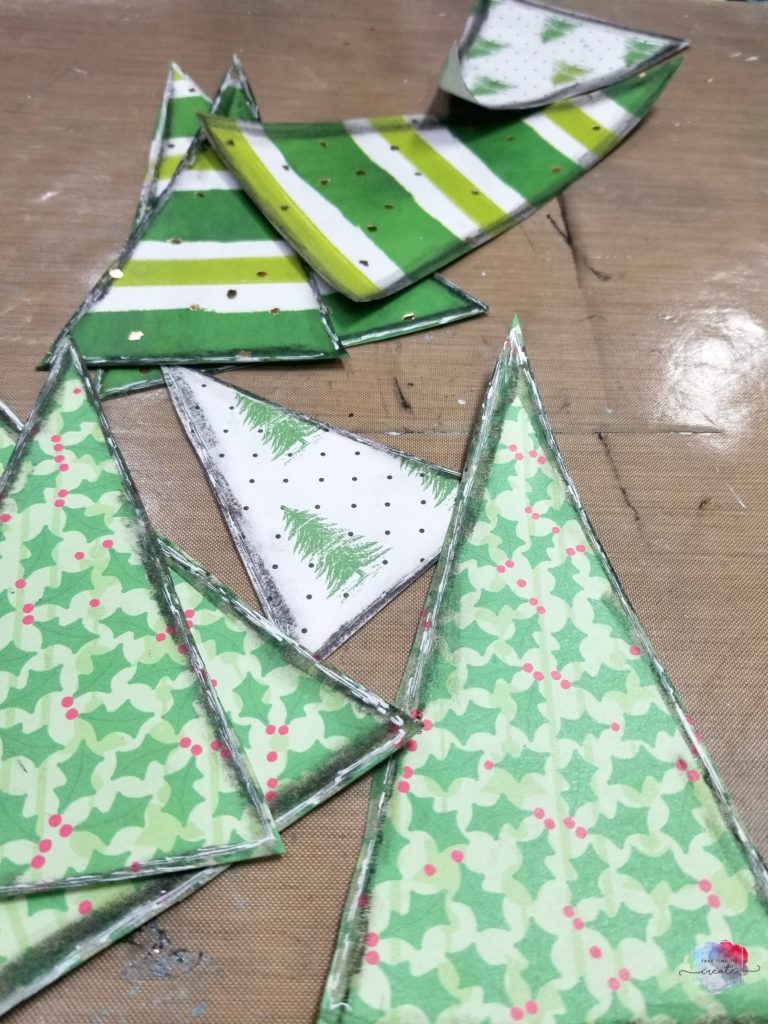 I glued it all on the canvas with hot glue then I added white splashes with watered down white acrylic paint.  Seal it all with a spray sealer when you are done then hang it up and you decor is now complete!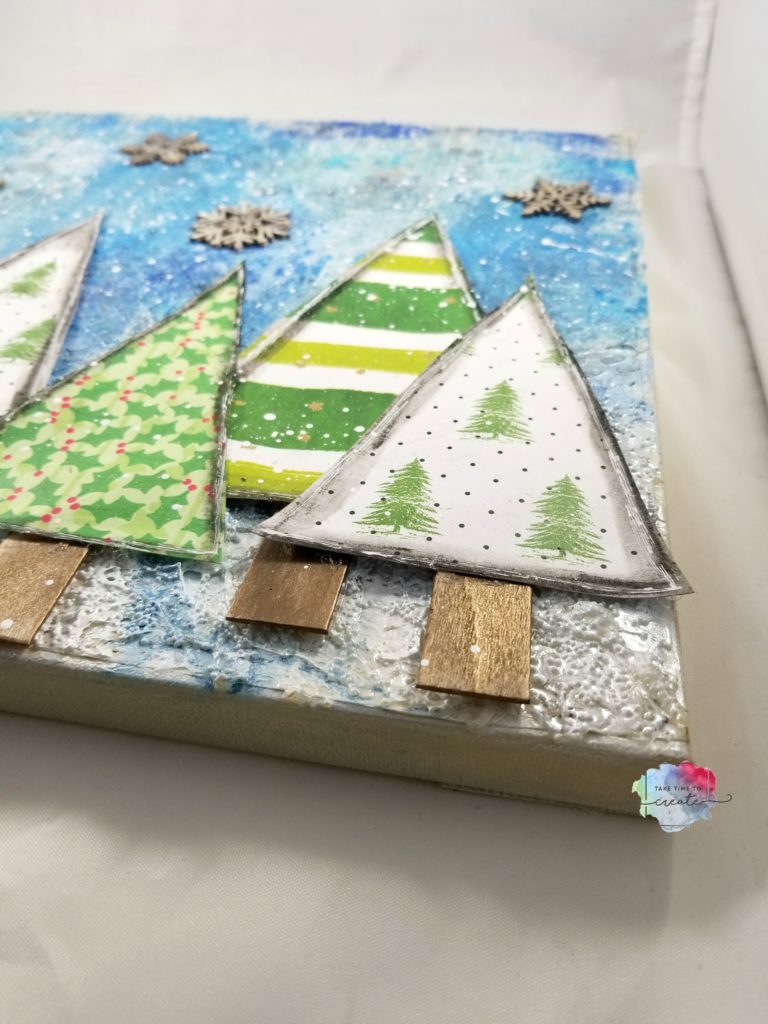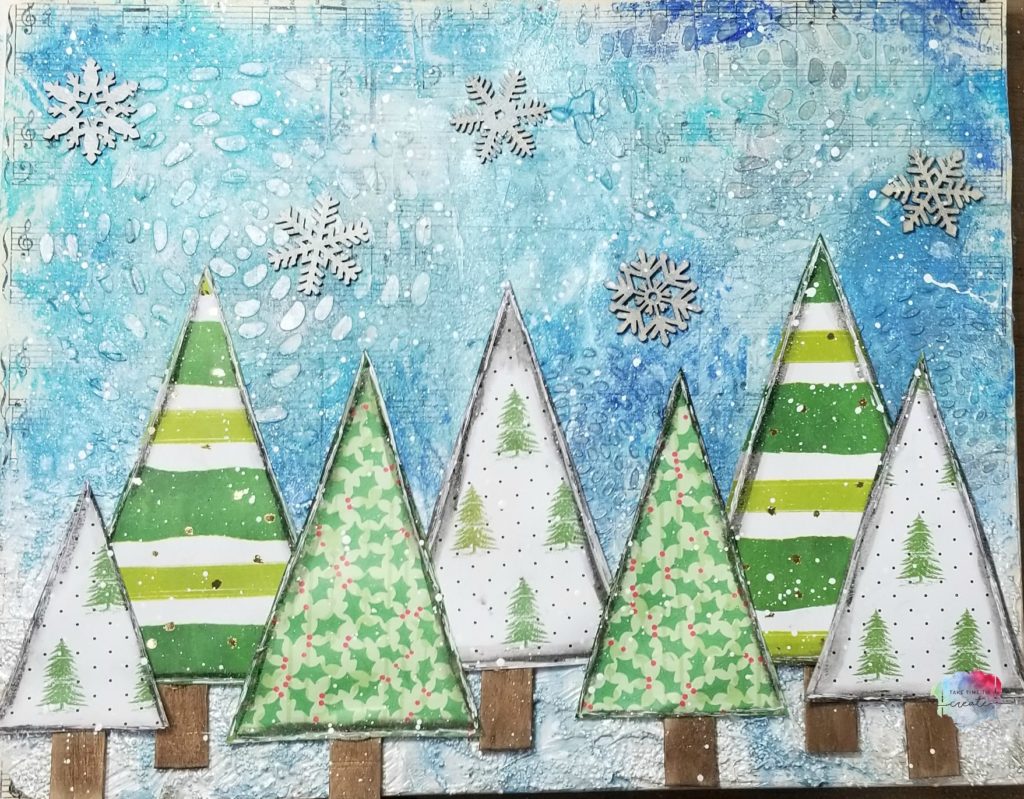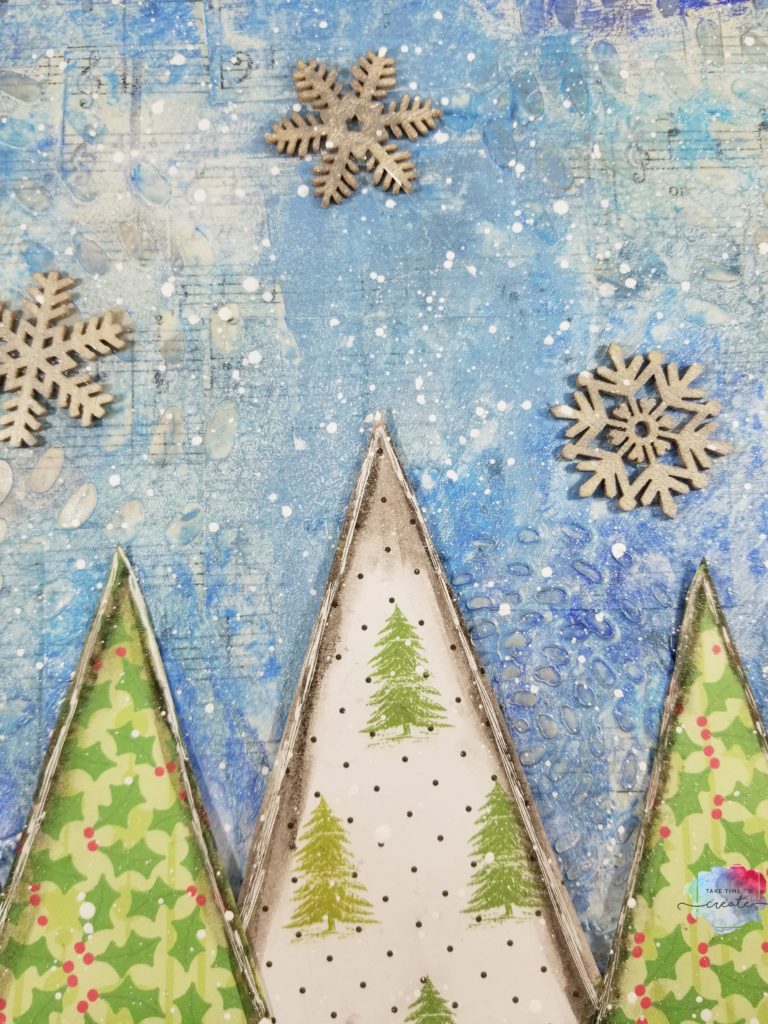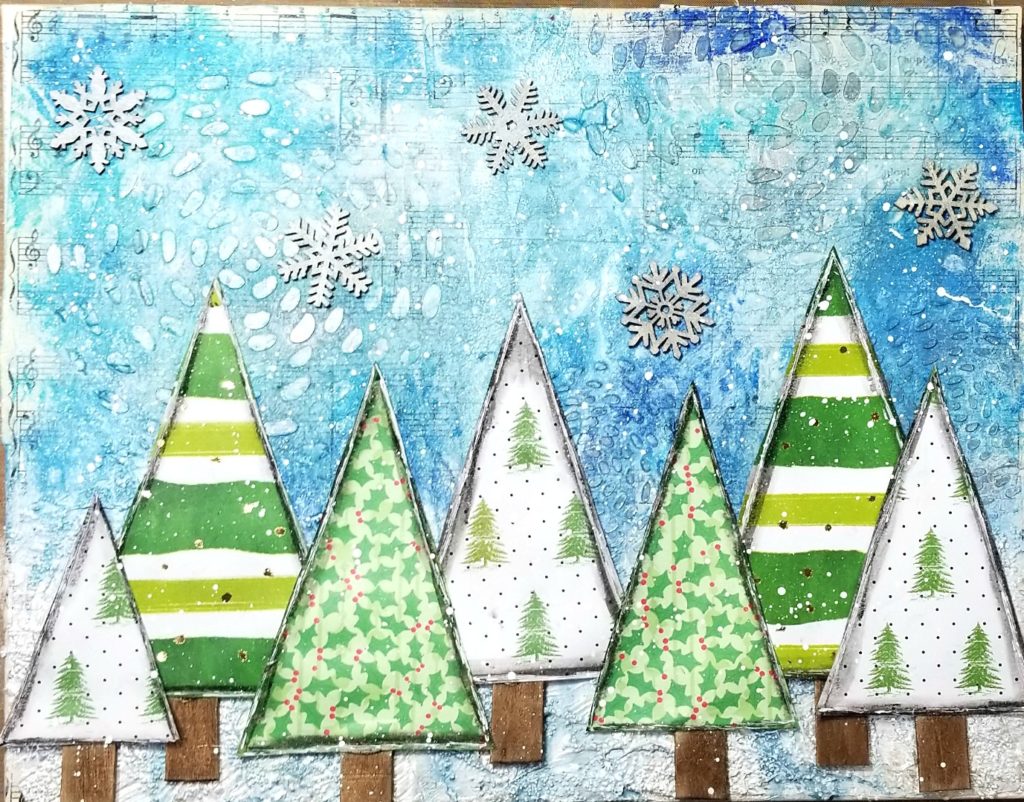 What season or holiday should I do next for my next canvas?
The post Christmas Tree Mixed Media Canvas appeared first on Take Time to Create.