Sewing Craft Project Burlap Pillows
Used burlap coffee sacks make for a great sewing craft project… they also make make great pillows. They are fun and unique and perfect for any decor.
Hello Everyone!
Today is a cold, wintry day and I am inclined to stay inside all day (I do have to go to work, but when I get home I am going to snuggle down and say warm) anyway, as I think about staying home I am reminded of this sewing craft project I did where I made pillows from Burlap sacks. I did this a while ago, but I still love them so much. I think they are perfect for my decor. 
Materials:
You will need the used burlap sacks that is used for coffee. I originally purchased mine on eBay, but I did find some on Amazon. You can use this link: Burlap Coffee Sacks.  There are a lot of vendors for these sacks so you have your pick! But they usually come with random patterns, I don't think you are able to pick your pattern. So keep that in mind when purchasing. 
Pillow form. I found mine at Ikea, they have the best prices for pillow forms
Needle and thread, or sewing machine. 
Instructions:
Cut your sack to the dimensions of your pillow form. If you want the pillow to look more full then cut the sack a bit smaller. (I have to be honest here, I didn't actually sew these pillows. My fabulous mom sewed them for me. haha, I don't know what I would do without her.)
Once it is cut, pin the right sides together and sew the right sides together. Leave a little hole so you have room to put your pillow form in. 
Stuff your pillow and stitch the hole. 
That is it, very easy to make a custom pillow for your home. You can use this technique for almost any fabric.  I love how easy it is to update your decor, and reusing items that might otherwise land in the landfill is a double awesome!
BTW if you are wondering how I painted my couch green you can check out this old post: Painted Couch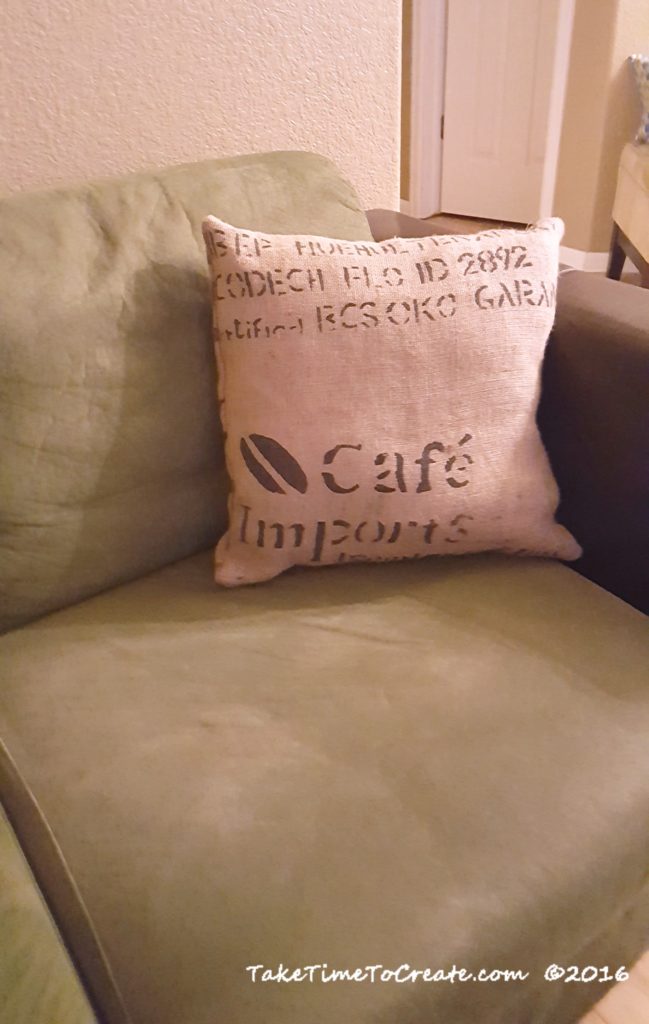 This post DIY Pillows from Burlap Coffee Sacks appeared first on Take Time To Create
---
If you enjoyed this post, make sure you Follow Take Time To Create so you don't miss out on other great posts.
Follow Take Time To Create on WordPress.com

---
This post contains affiliate links.
0