I know what you are going to say, that is crazy! Painting your couch! There are better ways to update your couch. I will agree there might be better ways, but this is a great solution for my dingy, old couch that needed an update.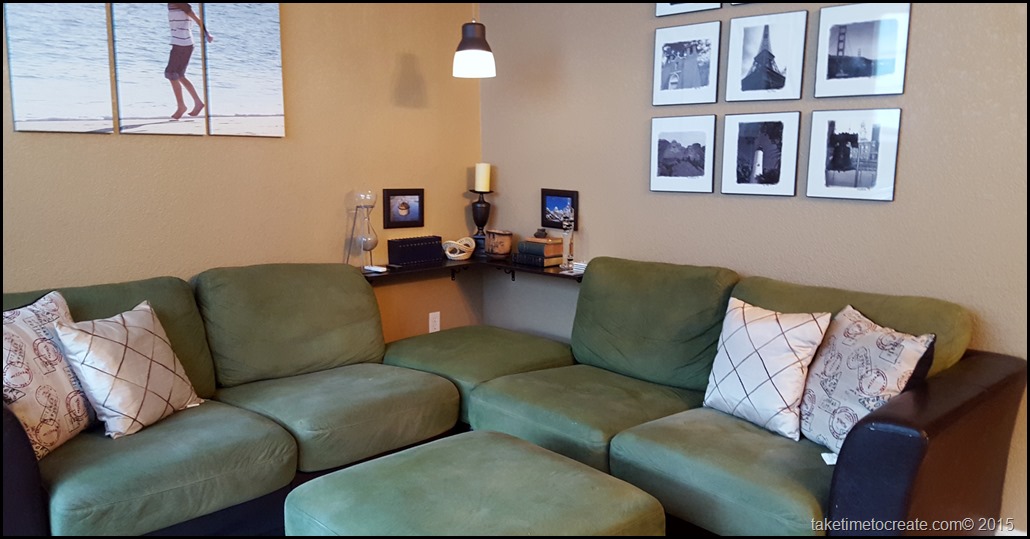 This couch is great, it has individual sections that can be moved if needed, and the ottomans can have the soft footstool side facing up or a hard table surface facing up. It is very versatile and we have enjoyed it for many years. The downside is that the couch is made of a light colored micro fiber that stains easily. over the years the couch has become a collection of stains. I have tried to remove them, but after awhile nothing would work. So I had the option of recovering the cushions or to paint them. I decided on painting because I thought it would be easier.
See stains (I am actually embarrassed to show you guys this stain, and I just couldn't bring myself to showing you the bigger ones.) And this was just a small one…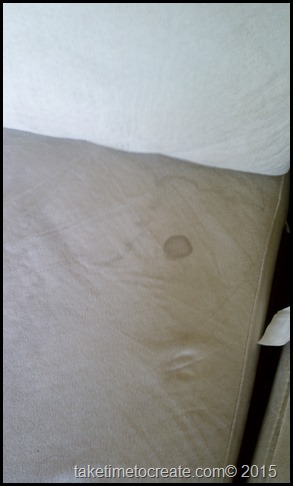 Overall it was pretty easy, but time consuming.
Here is how I did it if you are interested in doing the same with your furniture.
Materials:
~ Fabric Spray paint. I used Simply Spray Fabric Paint in Sage green. For my couch I used 12 bottles, which was about $120. Not the cheapest solution, but cheaper than recovering all the cushions but cheaper than buying a new couch. I bought my paint from Amazon. You can use this link to find the product: Simply Spray
~ Furniture that you want to paint.
~ Plastic covering for your work area, and room for your items to dry
~ Rubber gloves
Some notes:
Before I evens started I watched a ton of YouTube videos on how to do this and I read all the instructions and I looked over the company website. I took my time getting to know the product and how to use it. Before doing this yourself I would recommend doing your own research and practicing before you do your entire couch.
You can see here that our couch was a very light beige color. It blended in with the walls and the floor and it was very boring. Not to mention dirty. I thought the green would make it more interesting and make our living room more inviting rather than bland. Lyle was skeptical, but he was on board with my experiment.
Here is a picture of beige town that was our living room.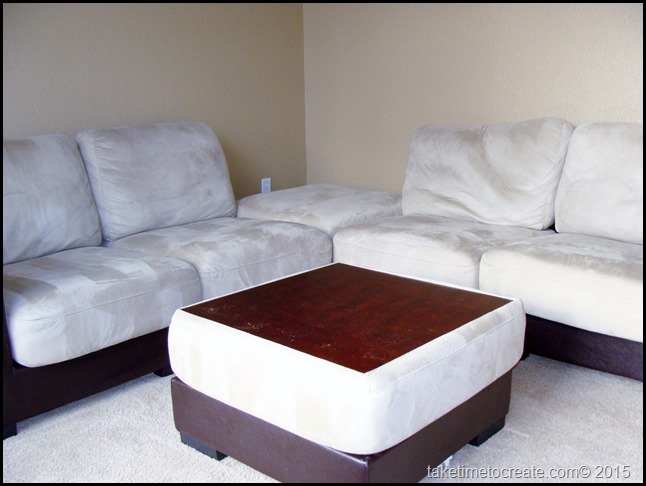 I will tell  you that you should do it all at once rather than space it out over a few years….
Yes you read that correctly, I did this project over the span of 2 years. I am sure you all have had a project that you started and didn't get back to for a while, well this project was one that took me a whole to get back to. I started it one weekend and got half of the couch done. I didn't have any pictures of it because I was embarrassed that I didn't finish in a timely manner 

  well eventually I decided to finish the project. Lyle was very patient and didn't nag me toooooo much about the unfinished couch in our living room. But I did go back and finish. That is why the colors are a little different from cushion to cushion. The 2 year time span is evident. My technique changed a bit and some fading happened. Oh well, it is done and we are happy with the final result so that is all that matters.
Instructions:
1. Clean your furniture. You want to make sure you have a clean slate so the paint will adhere to the cushion.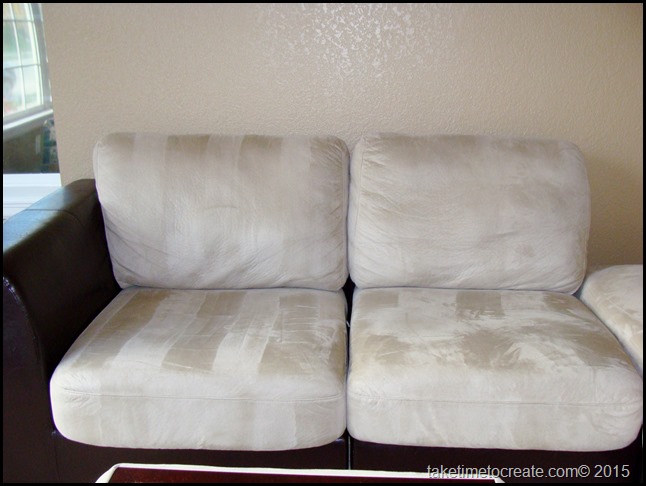 2. Take your cushions to your work area. We put plastic all over in our garage so that I could work in there. The cushions could dry without being outside where dirt and leaves would blow on to the wet paint. And if it started to rain I could close the garage door and keep the cushions dry.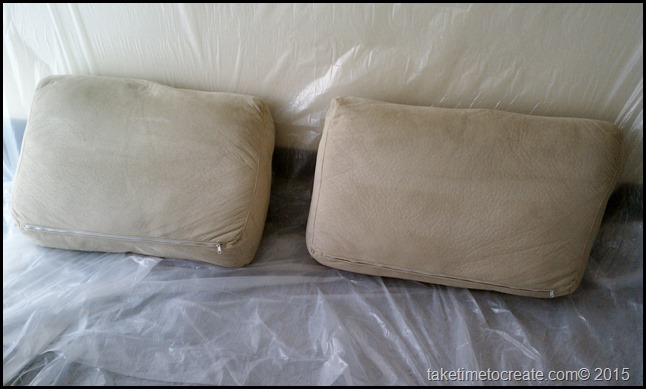 3.Put your gloves on. Spray a light coat on the cushion, then rub the paint into the fabric. I did this and I think it coated better.
4. Let it dry and spray and rub again. I did 3 coats, that seemed to get the best coverage. After the first 2 coats you will think to yourself "What on earth have I done? This looks like crap!" But hang in there, by the third coat everything looked better.
5. Let the whole thing dry over night then put it back on your couch.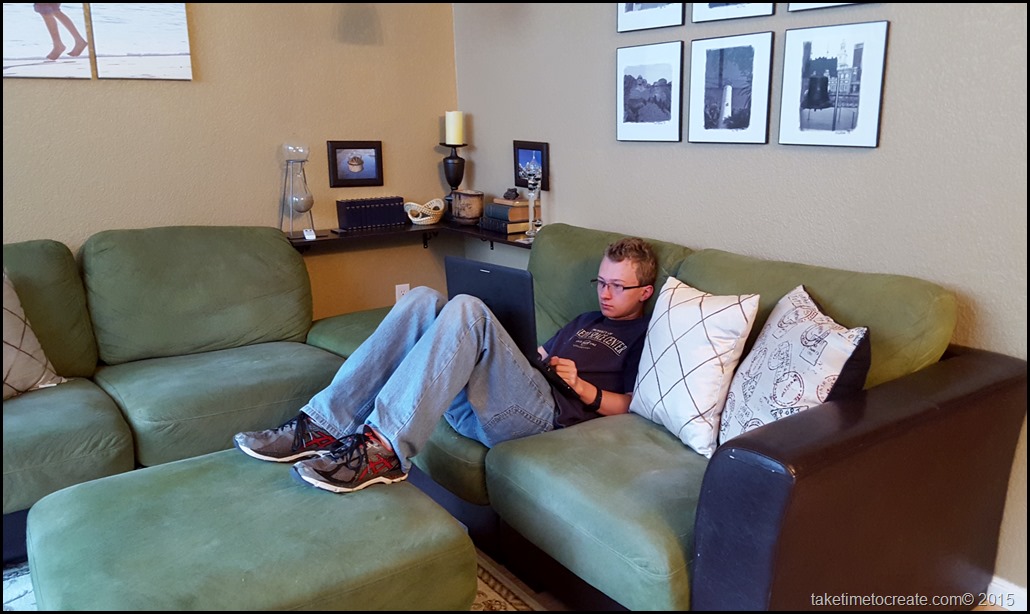 Enjoy your "new" couch.  This project has been completely finished for over a year now and I can honestly say I still love the final result. The paint has stayed on the couch and doesn't rub off on your clothes (this was a concern of Lyle's) and it still looks good. At first the fabric was a little stiff and not as soft as it was before the paint, but over time the paint loosens up and the fabric becomes softer. It won't ever be as soft as the original micro fiber, but it is getting better.
So, is painting your couch something you might do? What else do you think I should paint?
This post contains affiliate links
19