Hello Everyone!
Meet Issac. He is my new friend that sits on my desk at work. It was a simple task of transforming an old figurine from a golden owl into something amazing. Why is his name Issac? No particular reason except I asked my son what his name should be and Issac as suggest, and the name stuck. Perfect name for an owl.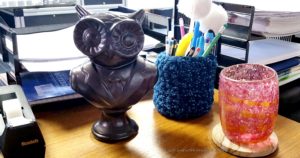 Now, I will admit I particularly like birds, especially Owls. But, when I saw this disguised looking owl at Goodwill I knew that he had to come home with me.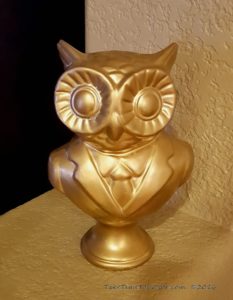 I just love how professional he looks with his suit and tie, He looks so serious. And the fact that he is a bust of an owl just cracked me up.  But he was gold. I didn't think he really liked being a 70s fantastic golden owl, so I decided to help him out.  As I looked him over I noticed that he was white under his label so my thought is that he was originally white, which would be really cute as well.
But he needed to be Oil Rubbed Bronze.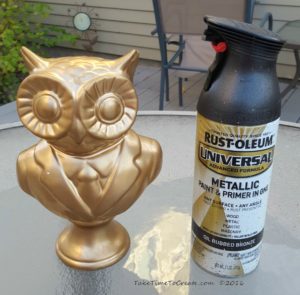 Protect your work space and spray in light, even coats, repeating as necessary. When he is completely covered let him dry. Once he is dried he is ready for display and he is ready to impart his wisdom.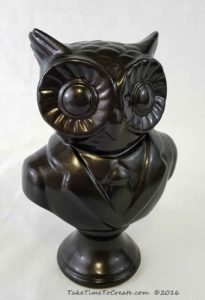 I love covering my thrift finds with spray paint. I painted this Candle Holder,  and these Porch Lights, and these lanterns.  You never know what I will paint next. 
0