Hello Everyone!
I am loving mixed media! It is quickly becoming one of my favorite forms of crafting. I love finding objects and combining them to create art.
This project is a Finnabair inspired mixed media. She is wonderful and her projects inspire me to create new things and expand my horizon. And I find that the more mixed media projects I do the better they turn out. It is fun to see how different my techniques is since I started.
This time I did a Dragon themed collage. I found the really cute ceramic dragon and built the piece around that.  Here is how I made this collage.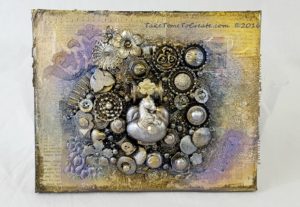 Materials:
Canvas
Found objects, papers, rhinestones, microbeads, stencils
Papers, stencils
Soft Gloss Gel, 3D Gel, Mica Powders, paint brushes, gesso
Instructions:
I had these really great old papers and doilies that I used as a base. The papers are a little fragile, but they make and interesting base.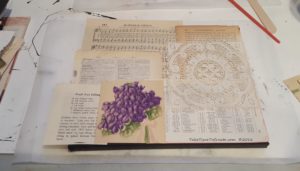 I glued the papers down with soft gloss gel and I added a top coat of soft gloss gel to protect the paper. The fragile, old papers did end up bubbling a tiny bit, but I think that adds to the character of the piece. The papers were just really thin and the gel soaked through and caused tiny wrinkles.  Let it dry before going on.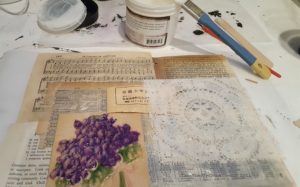 Next start arranging a layer on the canvas. I used a plastic heart and some lace and cork at this stage. I also used a stencil in the corners and added micro beads to the wet paste to add texture and interest.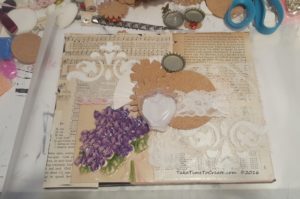 Keep adding layers to create interest and details.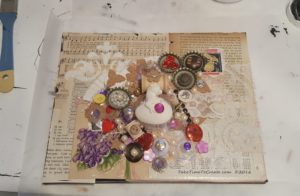 Once I was happy with the arrangement I used black gesso on the collage in the middle and I edged the canvas in black gesso. I faded the gesso out from the center to blend into the canvas.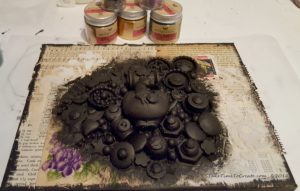 Next I started painiting. I added mica poswers to water to make a mist that I srayed in areas. But mostly I dry brushed the paint on the canvas. I mixed mica powders with soft gloss gel to create a paint.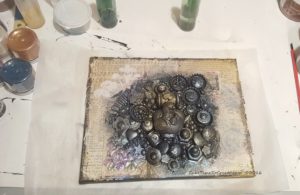 Just dry brush paint all around, hightlighting high points and emphasing different points of interest.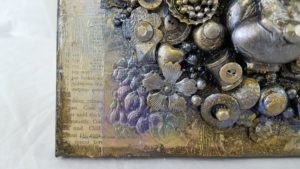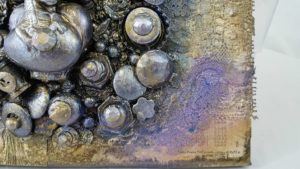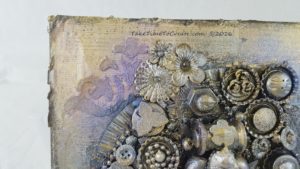 Mixed Media is tons of fun and I can't wait to complete my next project.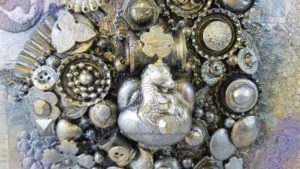 Tonight I am taking an embroidery class so I will share what I learn and have some new projects for you in the coming weeks.
Related Posts
0