As you can probably tell from my super, sparkly Beats post I am not one to leave my headphones alone. Recently I got a new phone and I came with a set of ear buds. I don't usually use ear buds, but on occasion I do. But I couldn't just leave them plain, no way! Crocheting is my new yarn hobby and it is super simple to crochet around any cord. I hope this tutorial makes sense, I just started crocheting and I haven't created any tutorials for crochet. (and I am finding it is harder than it looks

)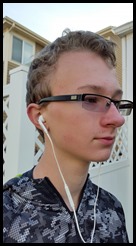 Here is my fantastic son modeling the before picture of the ear buds. He is a good sport.
Here are the materials you need:
Yarn (I am loving the bon-bons by Lion Brand. They are the perfect size and the colors are great!)
crochet hook
scissors
needle to weave the ends in with.
Ear buds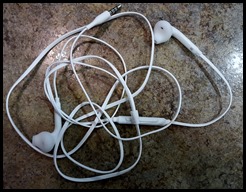 Here are my ear buds looking all plain and boring. But not for long!
Instructions:
Start at the top of one the ears. Tie a knot with your crochet hook in it. Then take your hook under the cord, yarn over, bring the yarn and hook around to the top, yarn over, and bring through the 2 loops.
It is essentially a single crochet with a cord in the middle
Continue down one side of your ear buds until you get to the junction where they combine into one cord. Make a big loop and cut the yarn. Don't weave in the end yet and keep the loop. After you do the other side you will take this loop and combine it with the other side and continue down the cord.
Crochet the down the other side of the ear bud. Join the two loops in the middle and continue down the cord until you get to the end.
I found that I had to stop occasionally and squish it all together so it looked better, otherwise it was too spread out and you could see the cord through the stitches.
Once you get to the ends tie a knot and weave in the ends. Then wear your new stylish ear buds with pride!
A side bonus is they are less prone to tangling, which is always a good thing!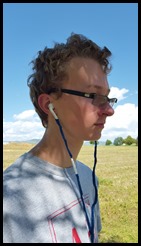 Here is my wonderful son modeling the finished ear buds. Please excuse his wild, unbrushed hair.

Please let me know if you have any questions, I would love to help you create your own awesome ear buds. And I would love to see your finished ear buds!