Hello Everyone!
Today I have an easy DIY using leaves from the Dollar Store to make a really cute bowl.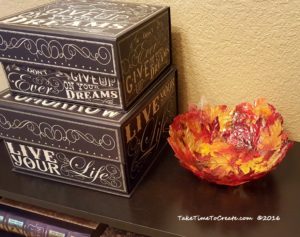 I have seen this DIY about 847 times on Pinterest, but I thought that I would add my version to the mix. lol. You can follow me on Pinterest and see all the craziness that I pin.  It is so quick and easy, the longest part is waiting for it to dry…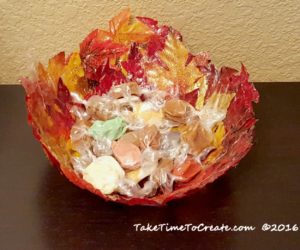 Materials:
Leaves
Mod Podge, foam brush, cling wrap
Bowl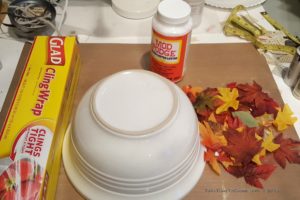 Instructions:
Find a bowl that you can use for the mold. We have had this bowl for over 20 years, in fact Dear Hubby had it when we got married. When I first saw it I mentioned to him that it was a great bowl (it is one in a set of 3) and he said "Thanks, I got it at Ace Hardware when I was getting some tools." lol. Such a man thing to do. Anyway, the bowls are awesome and have held up great! So I thought it would be a perfect mold.  I think I should use the other 2 bowls and make a set of 3 leaf bowls, that would be so cute!
Next wrap cling wrap to the bowl to protect it
Then start adding mod podge and leaves. I used glossy mod podge because that is what I had, but mat would work great as well. Make sure everything is well covered.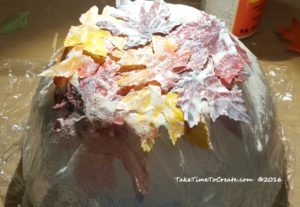 Once everything is covered add some cling wrap to the top to help keep everything in place as is dries. It does take a while to dry, but eventually it will dry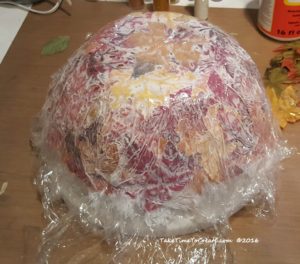 Once it is completely dry slowly, and carefully peal off the cling wrap. And there you go a brand new leaf bowl that is perfect for Halloween, Thanksgiving, or Fall. It is a little fragile and not the sturdiest bowl, but it is perfect for candy or pine cones or pumpkins, any light weight decor is perfect.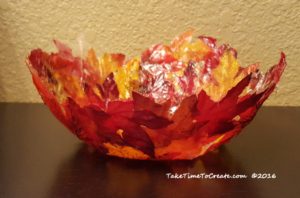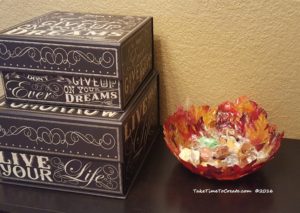 The post DIY Leaf Bowl From Dollar Store Leaves appeared first on Take Time To Create.