Hello Everyone!
I am excited to tell you that as of today the Dollar Tree will be selling Expression from Hallmark cards! Now, I usually like to make my greeting cards, but sometimes I am in a pinch and so I need a good place to purchase them, and the Dollar Tree really came through with these cards!
There are over 6,500 Dollar Tree stores nationwide and on August 30th every store will carry Expressions from Hallmark, $1 each and Heartline a Hallmark company, 2 for $1. With hundreds of new greeting cards to choose from, you can celebrate every moment with your friends and family without breaking the bank!
I received a pack of cards from the Dollar Tree and I have to say, they are wonderful. Great colors and designs and some glitter (of course I am a fan of glitter, lol) and they are printed on nice heavy card stock.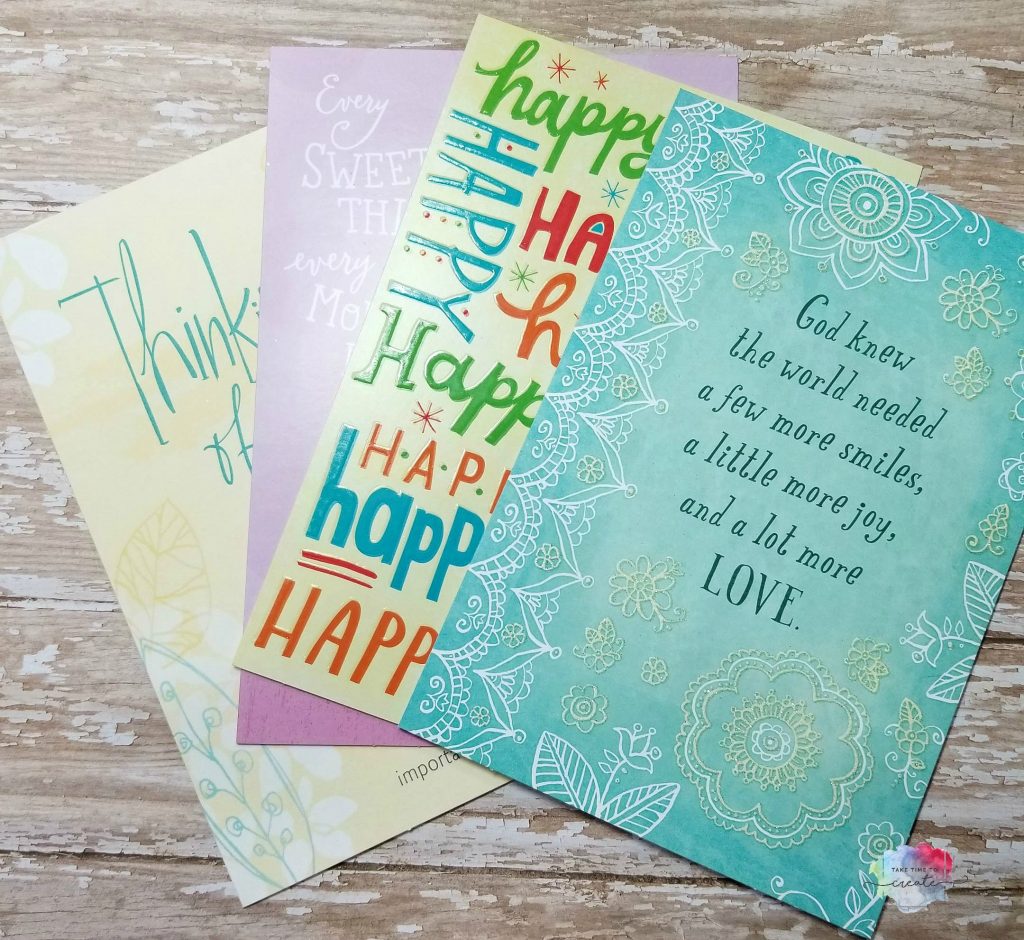 They a few different varieties, like the Joyfully Yours line (that is the teal one on the right in the above photo)  Joyfully Yours lets family and friends express their faith in just the right way during holidays, special occasions, and moments big and small.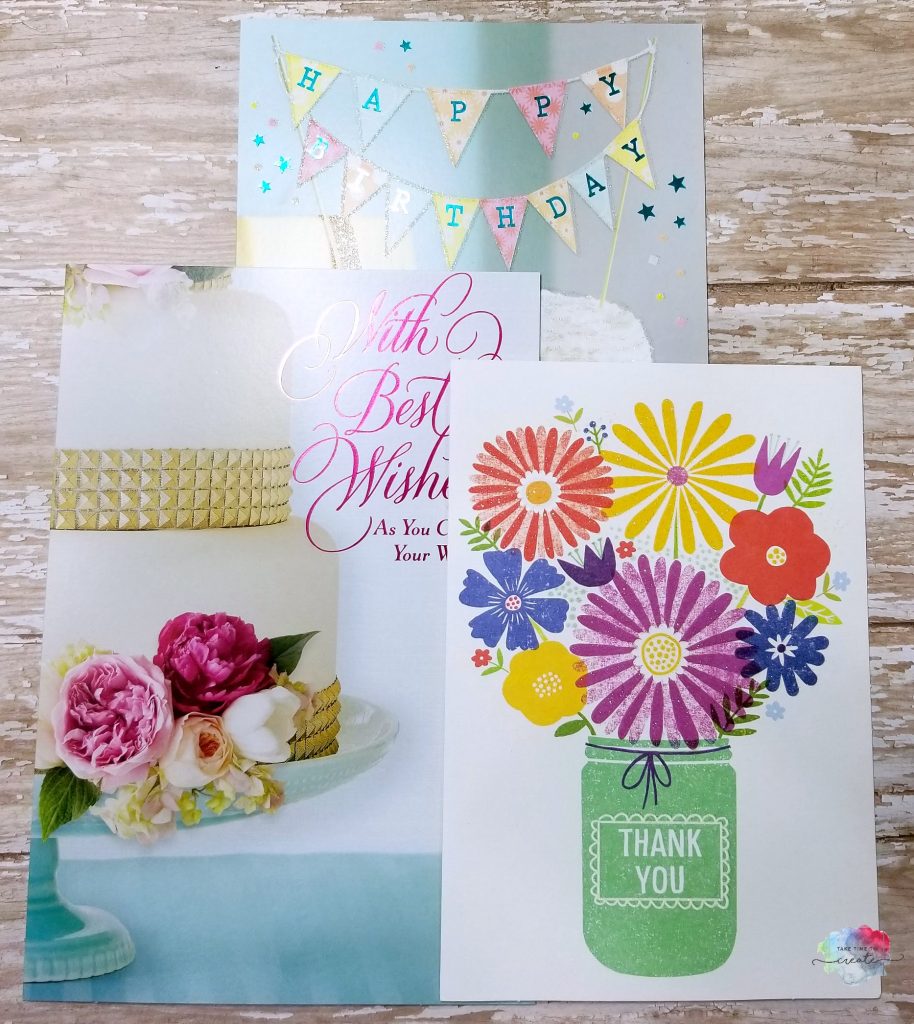 I was please with the selection and I am excited to use the cards. You all know I am a big fan of upcycling and repurposing items in my art. Since the cards are on nice paper it is easy to reuse them and make cards and tags from old greeting cards.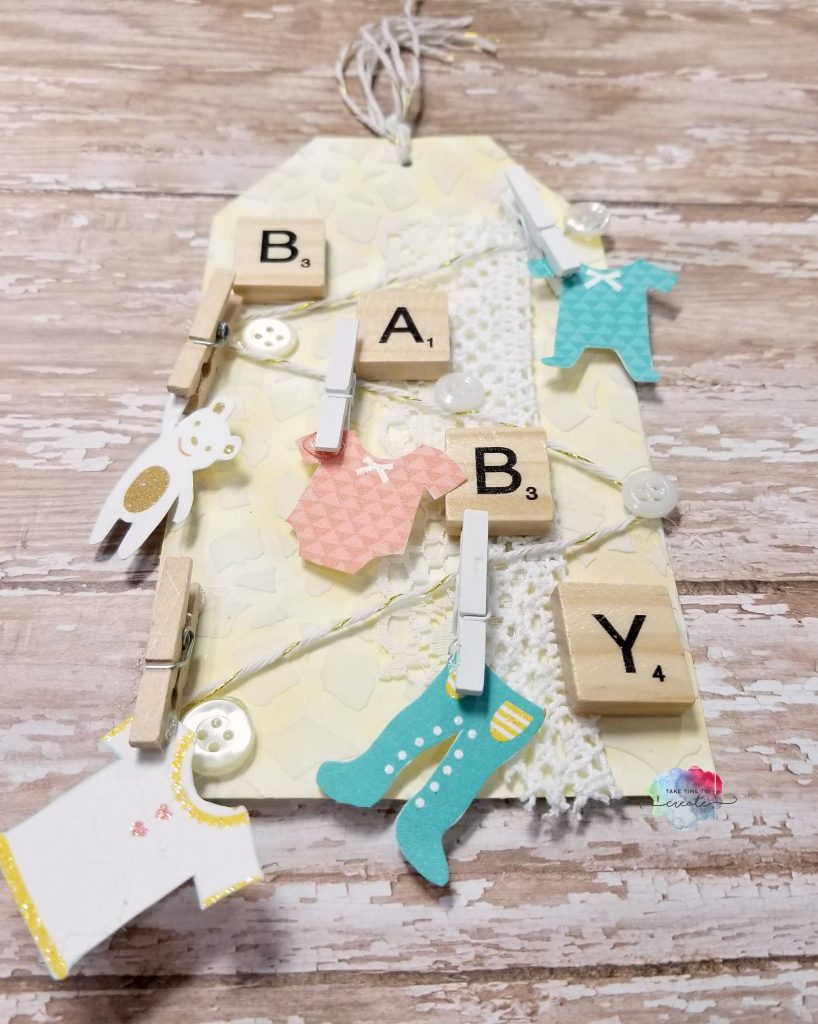 In the video at the beginning of the post I show you how to take the baby card and make this cute mixed media tag. I used some ink, stencils, scrabble tiles, bakers twine, and other elements.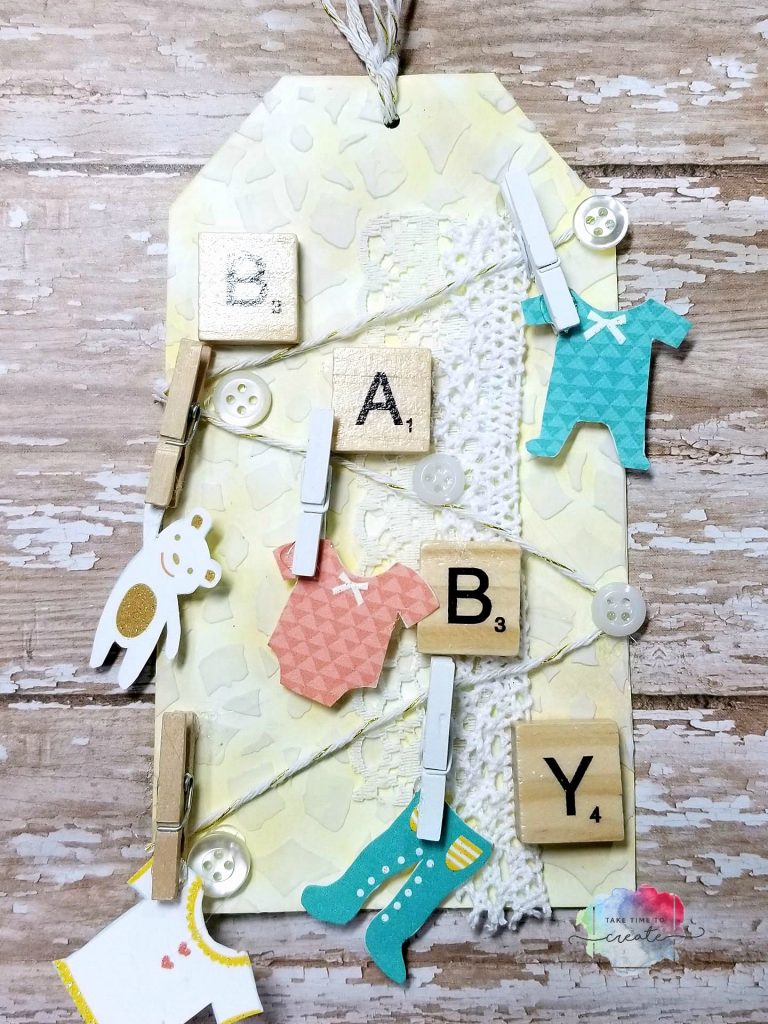 Such a cute little tag and easy to make and have on hand. You can do this technique for any occasion!
I was compensated for this post. This post also contains affiliate links and I will be compensated if you make a purchase after clicking on my links.
Dollar Tree Affiliate Links:
Expressions from Hallmark- https://tinyurl.com/ya8agy7n
Hot Glue- https://tinyurl.com/y8nw388p
Lace-https://tinyurl.com/yahjgdt3.
Amazon Affiliate links:
Versa Magic- https://amzn.to/2PnyvyB
Tag die cut- https://amzn.to/2NafZMN
Finnabair stencil set- https://amzn.to/2PR27p6
Finnabair Modeling paste- https://amzn.to/2wu09D7
Finnabair silicone brush- https://amzn.to/2PlieKn
Bakers twine- https://amzn.to/2N4kwjz
Mini clothes pins- https://amzn.to/2MZ8197
Scrabble Tiles- https://amzn.to/2MCRAzZ
The Post Upcycled Mixed Media Tag Using Dollar Tree Cards appeared first on Take Time To Create.