My Grandpa was a rock hound, he searched and collected rock for as long as I knew him. He loved rocks and he created some wonderful, beautiful jewelry with his rocks.
Here is a 70s fantastic picture with my Grandpa. I love this pic, it was taken not long after my brother was born (he is the baby in my Grandpa's arms). I am the little cutie in my mom's arms, my sister Valerie the cute little blondie, and my other sister Kim is the cutie sitting down.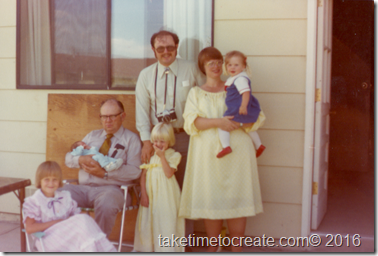 And what I love best about the above picture is about 5 seconds after it was taken this next picture was taken (or maybe it was 5 seconds before the actual photo when my folks were trying to set everything up). But either way the before and after is funny. It is almost impossible to keep 4 kids in one place. It just makes me giggle every time I see it.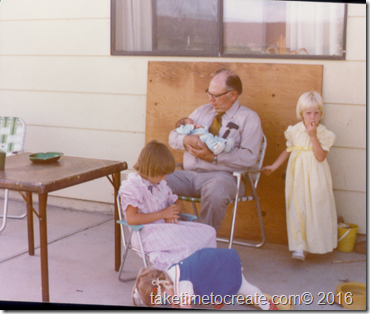 Anyway, I digress. As I said my Grandpa was a rock hound. It was fun to spend time in his rock shop and see his tools and rock and various treasures. When he passed my oldest sister, Kim, got almost all his rocks and tools. Well, I was visiting Kim a few weeks ago I spent some time digging around in the rocks she had. And I come home with a treasure trove! My Grandpa had these really cute glass animals, I knew I could do something with them. Be prepared for more future posts with rocks, I may have collected a ton from my sister….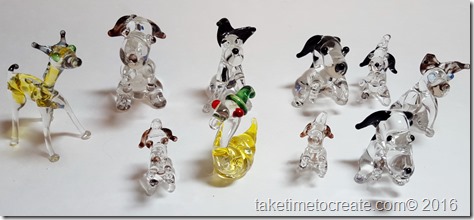 Aren't they cute! But you know real life happens and before I even started my craft projects Cole had to take a few (or 10) so this is all the remains. LOL. He also had first dibs on all the rocks I brought home, so I have significantly less than what I started with. I love how interested he is in rocks and nature.
I made some necklaces and some little decorations with the glass animals. I will divide this post into 2 parts, starting with the jewelry.
Materials:
~ Glass animals (you can get these almost anywhere. I would look on Amazon, eBay, or do a quick Google search, or sometimes rock and or bead shops might have them)
~ Wire, pliers, jump rings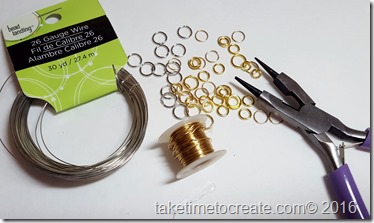 Instructions:
~ The little dogs had a little glass bump that was perfect for a jump ring. Add a jump ring and a chain and you are good to go. I think this is the easiest project ever!
~ The giraffe was a little harder, but not much. Just take some wire and wrap it around the body of the giraffe.
Once you have wrapped it as much as you want then twist it at the top and add a jump ring, just watch for the center of gravity. You want to make sure your jump ring is in a place to make sure the giraffe will hang right. Then take the wire and twist to the bottom and secure and cut off extra. I am thinking that I will need to add a dab of glue to make sure it is secure.
~ Please note that these are glass and to be very careful when you wear them. These might not be suitable for children, they might break.
Making Glass Animal decorations
Materials:
~ Rocks
~ Glue (I used Loctite, but E6000 would probably work, or any other glue like that)
~ Glass animals
Instructions:
~ Gather your rocks and animals. As you can see I have a lot, but this isn't even a tiny fraction of what I brought home. I am so excited for all the rock projects I have in store!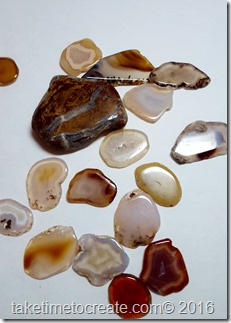 ~ Then glue your animals to the rock base and that is it! Display them on your favorite shelf. Reminder that these are glass and fragile, so you should be careful handling them and these are probably not for kids to play with.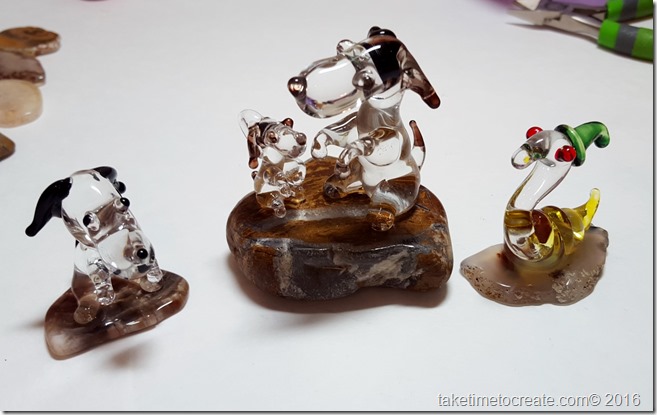 Nice and easy for this Wonderful Wednesday! Check out my Etsy shop to purchase some of these creations. TakeTimeToCreate.etsy.com
There are no affiliate links in this post
14