Kathy is my good friend and over Thanksgiving she fractured her arm

Not a good way to start the holidays, but she found a way to make her cast fabulous!
Here we are at Disneyland this summer! Best trip ever, and if you look in the background you can see the awesome face my son is making.

Here is how she went about blinging out her cast
A plain cast on my left arm just was not working for me, it was really cramping my style, even though I got to pick out the color and it was purple. Why the cast? Well, here's the real story, although people keep telling me to just say that I was fighting off a bunch of ninjas. I was shoveling our driveway the day after Thanksgiving, in preparation to move the car so I could get to the attic to bring down the Christmas decorations. There was only about an inch of snow, but it was a little slick so I went inside to put my boots on so that I wouldn't slip! Well that didn't work out very well, I slid on the ice, caught myself with my left arm, and broke my wrist! A trip to the ER instead of a trip to the attic, and the Christmas decorations would have to wait another week.
Staring at my purple cast, I thought to myself, "This cast is pretty ugly. How can I make it better? What Would Linda Do?" (Linda being a dear friend of mine and the owner of this blog). Then a mutual friend of Linda's and mine suggested rhinestones! What a great idea!
Here is a picture of the purple cast, plain and boring.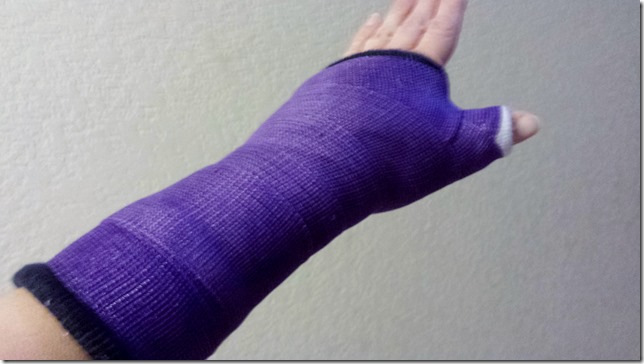 Although Linda has a lifetime supply of rhinestones, I don't have quite that many. I decided to go shopping! Found a nice set of designs at Hobby Lobby (in the scrapbook aisle), and it was on sale! Jackpot! I paid $3.50 for this.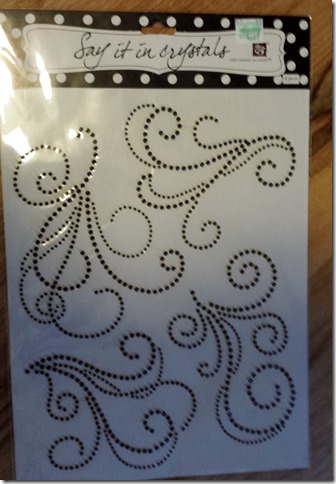 It was a simple process to peel and stick one of the rhinestone designs onto the cast. It adhered quite nicely to the cast material. I'm sure my friend Linda would take the time to glue each rhinestone on with E-6000 glue, but I decided to try this and see if it will stay. If not, there are still three more designs in the pack!
I am a little concerned about what will happen while I sleep, so I thought I would cover it up with some Glad Press-n-Seal. I have learned this stuff is amazing for cast care, you can cover the cast with it and take a shower! It sticks to just about everything, I am hoping it will not stick to the rhinestones but will just protect them and then will peel off easily in the morning. We'll see.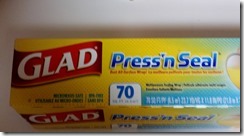 The blinged-out cast, covered with a layer of press-n-seal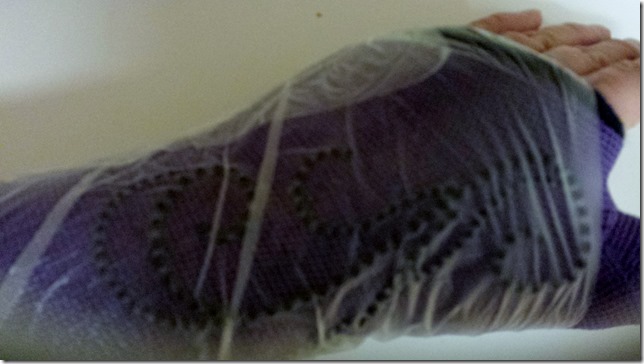 Update: The next morning, it still looks great!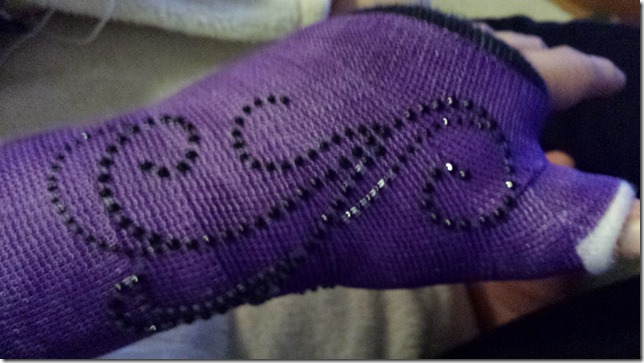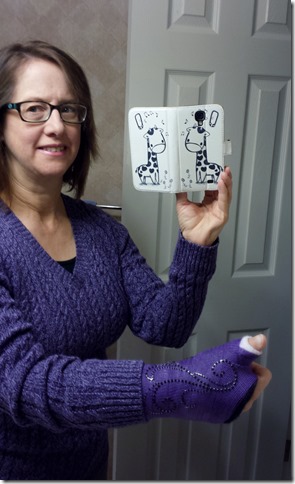 I am so glad that it worked and that Kathy has her bling on as she is healing. BTW love the giraffe cell phone case! Get better soon!
18