Not long after I started this blog I mentioned it to my friends and family that I had a blog and if anyone wanted to be a guest blogger to just let me know and I would feature them. Well I wasn't surprised that my oldest sister was the first to offer.
Here is a picture of me and all 3 of my siblings.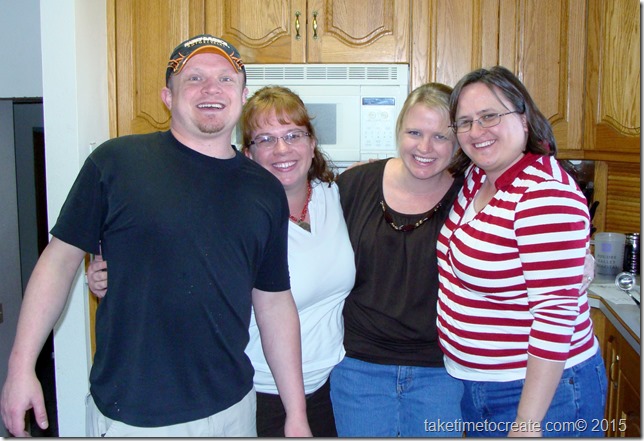 (Sam, Linda, Valerie, and Kim)
I can't believe that this picture is 4 or 5 years old (yikes, it is time for us all together and take some new pictures. My hair hasn't been red in years…),but you work with what you got and this is it. That is the problem when everyone lives all over the country, it is hard for all of us to be in the same city at the same time. And when we do get together we don't think to get the camera out and take pictures. I think this has just become one of my new priorities, get new family pictures.
But before I go into the tutorial I thought I would give you a little background about my family. When I was typing this blog post I realized that I haven't spent much time talking about my family, other than my husband and son. I have 2 older sisters and a younger brother. So that puts me in the middle of the kids. It was fun having so many siblings growing up, but sometimes I got lost in the mix. I am sure that anyone with lots of siblings feels the same way. Today's guest post is from my oldest sister, Kim. She is about 7 years older than me and I always looked up to her. She now lives in Arizona so it is hard to get together, but when we do see each other we always have fun! Kim has a wonderful talent making jewelry. Whether it is her own creation or taking something and reimagining it. I love seeing what she comes up with just some beads and wire.
Here is the beautiful bracelet that she made me soon after my son was born. It is silver and garnet (his birthstone) and gorgeous and and it fits perfectly and every time I wear it I get tons of complements.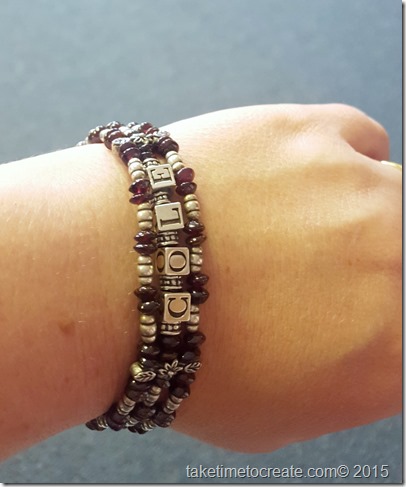 In today's guest post I will show you the awesome jewelry that Kim made from old costume jewelry that she inherited from our Great Grand Aunt Nancy.
Kim's Guest Blog Post!
Ever find that fantastic old piece of jewelry but you cannot wear it in the condition you found it in. This happened end to me. My sisters and I were helping our mom go through her jewelry and found that she had our Great Grand Aunt Nancy's jewelry box and I found this pendant and earrings and I cannot resist some good sparkle. (Sorry took this picture after I had taken one earring apart)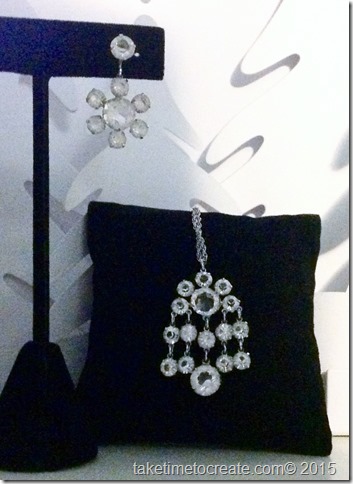 The pendant was easy just a longer chain. Aunt Nancy was 4'8″ and a petit dancer. I am not.
Then the screw on clip earrings were next.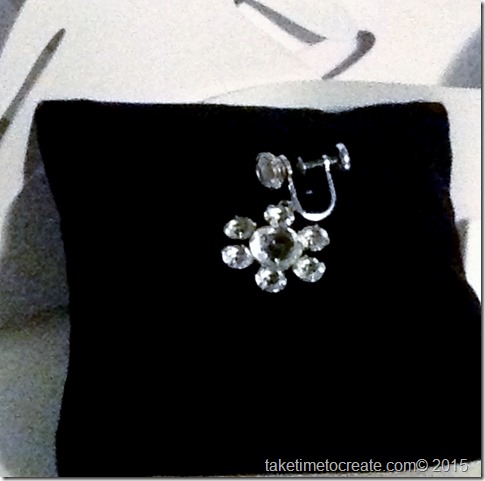 I removed the dangle. The key is to examine the loop and find the one that has the break. Then twist the ring open. Most of the time in these cases the ring with the break is found on the clip side and the dangle is whole.
When working with old jewelry be sure you check the integrity of the ring. If it is showing significant wear then it may need additional repairs before continuing. (If I find one that needs repair I will show this in a future posting)
I then added the dangle to an ear wire. By using a modern long ear wire I was able to update the look without compromising the original charm.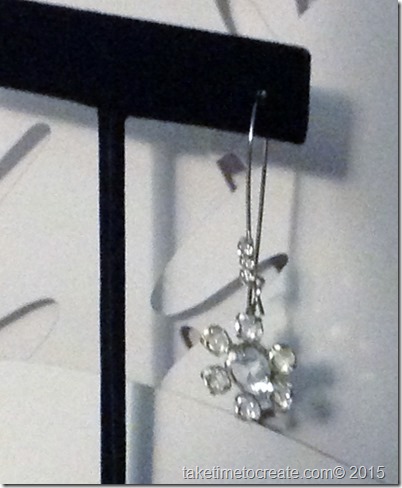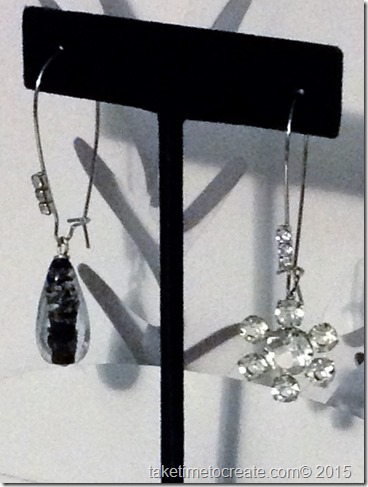 I found these ear wires at Hobby Lobby but they can be found at any number of craft and bead stores or online. I liked these because the "diamonds" on the ear wire complement the crystals in the dangles.
I also love that the dangles are so easy to remove because then I can make a bunch of different dangles and change them out.
Have fun with old charm and modern looks.
Thanks for sharing Kim, the earrings and necklace turned out beautifully! I can't wait to see what she comes up with next!
16