Most Popular Pin
You get a two for one today!
I wanted to share with you on Throw Back Thursday one my most popular pins on Pinterest from my blog. I love seeing what is popular. But this is a fun one that I still love.
Drumroll please……
The most popular pin is the
Just a simple print out framed in a cute frame I got from Hobby Lobby and that is it.
It always amuses me when the pizza guy wants to take a picture of the sign. It usually works and it has held up well over the years. Keep on pinning, I love to see what you guys pin. If you want to follow me or any of my boards on Pinterest you can follow me at https://www.pinterest.com/linsam/
Now I can't just leave you with that throw back, I need to show you a DIY as well
DIY Rhinestone Calculator
I was wandering around Hobby Lobby the other day and I saw a very cute pink rhinestone calculator. I loved it, but I thought to myself that "Hey! you have a calculator and rhinestones, why don't you make it yourself instead of buying a new one?" So that is what I did.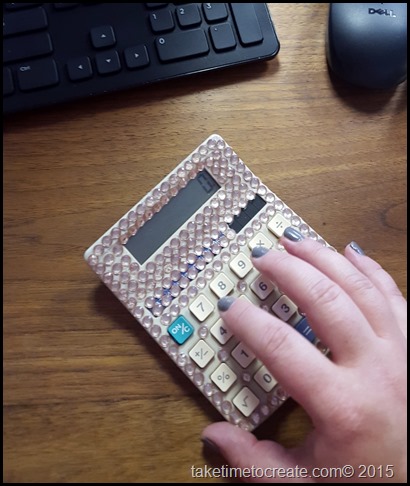 It was easy to do and the side benefit is that no one takes it off my desk anymore

and if they do take it, it is easy to find and for me to take it back.
Materials:
~ calculator (mine was an old one that I have had forever. ) Since my calculator is tan I went with tan colored rhinestones that I had at my house. I wanted this to be a cheap DIY with materials that I had on hand. Maybe not as cute as the pink one I saw, but cute anyway.
~ Rhinestones (I got my package from the dollar store.)
~ E-6000 (of course, I think I am a little obsessed with this glue….)
~ Something to clean the calculator
~ sandpaper or something to rough up the surface.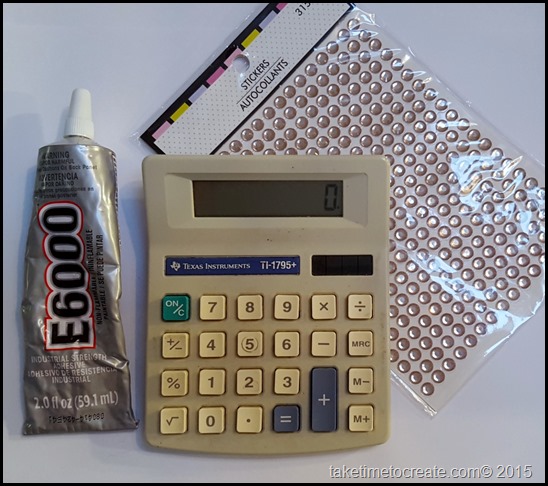 Instructions:
This is a very straight forward project. Just sand, clean, and glue. So here we go:
1. I sanded my calculator because I thought it would be easier with a sight rougher surface. Just a light sanding will do.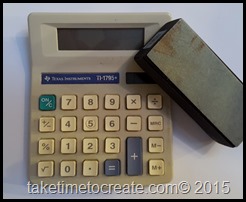 2. Clean. I used a wipe and cleaned every crook and nanny, I don't think my calculator had been this clean since I bought it.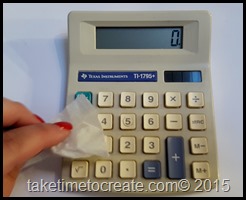 3. Start gluing. I used these awesome syringes that I bought from Amazon (here is the link) You don't to use the syringe, but I find it makes it easier and more precise to apply the glue. This is especially important when you are trying to glue tiny rhinestones.
I know you can still see the blue Texas Instruments logo and model number, but that is ok for me, it really doesn't bother me. But if it bothers you then I would use smaller rhinestones and try and fill it in more. Or you could paint over the blue part to match the rest of the calculator before you added the rhinestones, then it wouldn't be as noticeable. Lots of options for what ever look you are going for.
4. Let dry before using.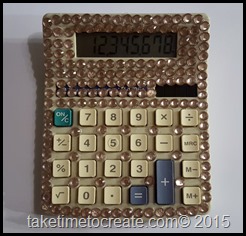 That is it. I am well on my way to blinging up my entire desk. I wonder what should be next on my list. Suggestions?
What office supplies have you enhanced?
15