Well I did a post on Glow in the dark Mickey Ears that I made for my boys. So I decided to make a set of Minnie ears for me. These are even easier than the Mickey ears!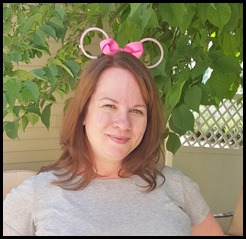 Here I am wearing them in my backyard during the day so you can see that they still look great in the day time.
Material
1. Headband
2. bow ( I used a premade bow, but you can make your own)
3. Glow in the dark bracelets
4. Electrical tape
5. Hot glue
Instructions:
1. Take the bracelet connector and tape it using electrical tape to the headband. I used electrical tape because it is black and blends in better. I did try to glue the connector, but it did not stay at all. So tape was the way to go.
2. Hot glue the bow to the head band
3. Crack the bracelet and connect it to the headband and then you are done! Easy as that!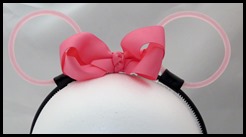 Now you have easy DIY glow in the dark ears that didn't break the bank!
16