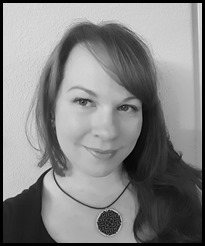 When I travel (and I do travel a lot for work) I like to keep my hands busy with some kind of craft or needle point. Well, recently I took a trip and I decided to do this little cross stitch kit I picked up a few months ago. I loved the wood pendant and the design was great. The original colors were black and white, but I am not a huge fan of black and white so I opted to do black and gray instead. I finished it on the return flight, so it was my kind of project- quick and easy.
Materials needed:
Cross stitch kit (I used one from Dimensions, I picked it up at Hobby Lobby)
Scissors
Everything else is included, unless you what to change the color then you will need to get the colors you want.
I opted to change the necklace to a cord rather than the ball chain that is included, but of course that is optional
Instructions
Here is what the kit looks like and everything that is included. Please forgive these pictures, I took them while I was on the flight and the lighting on the airplane is terrible. The kit comes with needle, thread, pendant, chain, jump ring, and instructions.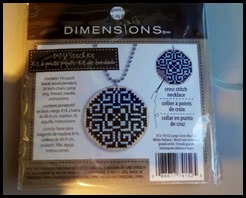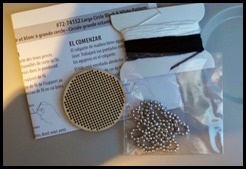 Then all you do is follow the easy instructions and start to cross stitch the pendant. If you don't know how to cross stitch there are a ton of videos on YouTube that can help you and tons of websites as well.
Here is the start of the pendant. (Don't you just love my safety scissors I have in the background. I wasn't sure scissors were allowed, so I took my son's safety scissors he used in kindergarten. Then I trimmed it better when I got home)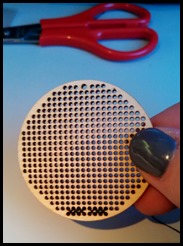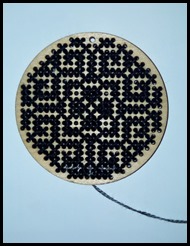 Then I did gray instead of white and added the jump ring then I put it on a black cord rather than the ball chain that was included. And that was it, very easy to complete and I love it. I wear it all the time.
Have any of you done a cross stitch kit? I would love to see what you have done.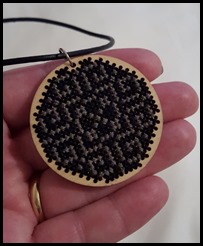 18