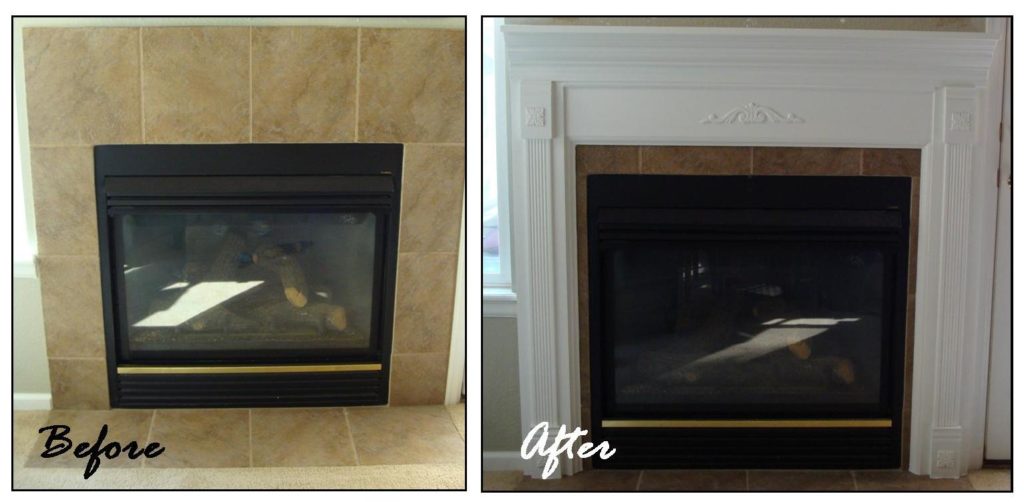 This picture on the left is before, just plain ceramic tile around the fireplace. After, it is a custom mantel.
So we have this plain Builder's grade fireplace. Nothing fancy, but nothing wrong with it. It is just boring and plain and not really some thing we loved. So we decided to change it by building a mantle. This is a new project for us and I will try and explain everything that we did, but if you have questions please let me know.
I know that there are a ton of these fireplaces out there, so hopefully this will be inspiration for you to upgrade yours.
Before we got started we looked at a lot of mantels and tried to get ideas. The problem with ours is that the fireplace is sandwiched between a window and door. This meant that we couldn't build the top shelf part out, we had to make sure it was flat so that it did not interfere with the door or window.
We purchased a ready made surround from Lowe's and built it up from there. The surround was a little too long, so we cut the top board down to fit our fireplace.
To get the surround to stay on the tiles we used Loctite power grip. There maybe other glues that might work a little better, but this one worked fine for us. Make sure you follow all the directions on the glue to ensure maximum adhesion. We didn't want to screw into the tiles, so glue was the next best thing. We put the glue on and stuck it up on the fireplace and then put chairs up to the surround to help hold it in place and left it there to dry overnight.
Then it was time to build the top shelf. We wanted to make sure it was sturdy and secure so we screwed "L" brackets into the wall, not the tile. We decided that it was not secure enough so we created a brace that went from the shelf to the surround, and that was glued and screwed in place.
Then it was time for the fun to really begin. We started to add the crown molding. First came the trim that went next to the tile and surround. This trim came with the surround and looks great.
So far so good. It is hold the pictures up, nothing has fallen yet (whew).
We added crown molding below the shelf. Then we had to figure out what to do with the side. As you can see the molding couldn't stick out from the sides or it would interfere with the door so Lyle decided to make it flush with the side and leave it at that. I think it was a perfect solution to our problem.
We added molding to the sides and detail to the top and sides. At this point it became a matter of building and creating and seeing what we liked. We would add then take away and add something else, eventually we landed on a design that worked for us and that we liked.
Now came the "fun" time of prepping the wood for painting. This did take awhile, but the better you prep the better the finished product and since this is a focal point we wanted to make sure it looked perfect. The sides had to be filled int with wood filler. This took a few times, but  it came out looking wonderful. Just putty it on and then let it dry and sand for a smooth finish, repeat as necessary. Make sure you follow all the directions.
Then we caulked all the seams and edges to have a smooth professional finish. Once again follow all the directions on the caulk. And we put wood putty in all the holes and filled in the nail holes for a nice smooth finish.
Then came time for sanding. Sand everything to a nice smooth finish. Take your time with this step, the better the finish the better the paint will look. Wipe off all the dust so the paint will stick better.
Once everything was sanded nicely it came time to prime and paint. Before priming and painting I put tape on the walls and edges and put a drop cloth down to contain the paint mess. For the primer I used 1 2 3 Primer with a foam brush. I didn't want brush strokes and this worked out great.
With the primer on it doesn't look very nice, but I know it will look better soon….
This is  the first coat of paint. Not too exciting. We went with Kwal Aspen White, only because the rest of our trim is in that color. I didn't want to repaint all our trim, and this really is a nice white that looks great. I lightly sanded between the primer and coats of paint for a smooth finish and the wiped off the dust before I painted the next coat.
After 4 coats of paint we are finally done! We can't believe that actually built a mantel and that it looks so great! It took 2 weekends, but it was worth it. What was the cost? Less than $250, but so worth it.
Questions?
Have you built a mantel? Share pictures, we would love to see it!
Lesson learned:
1. Don't rush this project, it is worth it make sure you do it right and that it looks good.
2. Foam brushes work well for the paint
3. Be prepared for some trial and error when working with the crown molding. It make take a few tries to get the look right.
12