So for my first post for our blog I thought it would be fun to talk about our garage overhaul. But I did a terrible job of taking pictures during the process. So, use you imagination and picture a plain 2 car garage with just drywall on the walls (unpainted) and nothing on the floor and no storage. That was our garage for 3 1/2 years, yuck!
Well, what we did first is go the dump, yes the dump, and get paint. Our dump has a hazardous materials center and that is where you bring all your chemicals that you are no longer using and they will properly dispose of them for you. I pick out a few gallons (they will all about 1/2 full) that were about the same color and brought them home. We primed the walls since it had never been painted before and them we mixed all the paint from the dump together. By mixing it we made one consistant color that we were able to use on all the walls and celing.
After the painting was done we started on the floor. We really wanted to epoxy the floor and we found a Rustoleum kit that had everything we needed. We just needed to pick up brushes and some basic tools and the nonslip additive and we were good to go. Now, prepping the floor is key! We swept, cleaned and cleaned and cleaned some more all per the instruction that came in the box. Here is a picture of what we used:


We picked up the kit at our local home improvement store. After prepping the floor and the floor was dry it was time to epoxy the floor. You just mix the 2 parts together and then we added the non slip additive that you can buy separately and off we went. As we painted in smaller squares we added the decorative chips and finished painting in just a few hours.
After the floor was completely finished we let it dry and cure for the next week. It was hard but we did not go into our garage for 1 week. After the week was up we did the final touches. We decided to add a rubber baseboard to finish off the look. It was easy to install, just add glue to the board and press on wall. Once the base board was up we added some simple storage to complete the garage. We even replaced the single bulb that was lighting the garage for a florescent light, much better! Looks great, what do you think? What have you done to make your garage a showplace?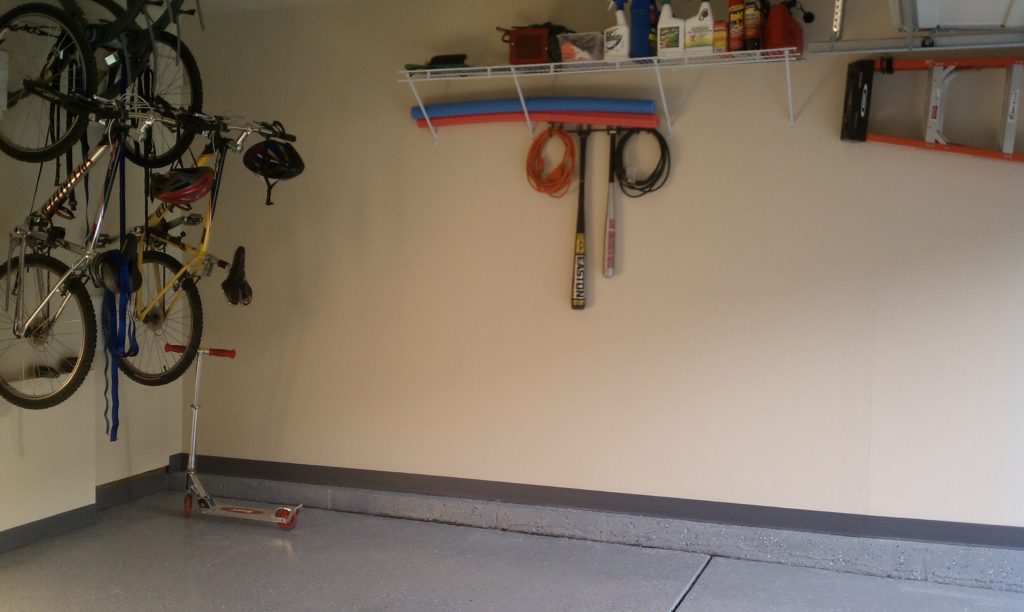 Lessons learned:
Watch the video that comes with the kit. We watched it a few times and we watched Youtube videos as well. It helped a lot.
Have help! We had a friend help and it was nice, but 2 people can do this, but 1 would be tough.
Really clean the floor! we even power washed the floor and I think it helped a lot and made it look more professional.
11